Welcome!

Welcome to LogoALL.com Custom Apparel & Promotional Products...
"Growing Your Business Is Our Business..." LogoALL.com, provides nation-wide marketing and advertising services for small to large corporations and in nearly every sector of the market. We specialize in corporate branded apparel, promotional products, screen printing, and embroidery. Not to mention we offer an in-house design and website development department which ensures true one-stop shopping for all your marketing needs. Our professional team ensures your marketing is consistent to your brand, regardless if your an established corporation or growing your business from the ground up. At LogoALL.com your Satisfaction is, GUARANTEED!! Contact us today to find out how we can grow your business...
Featured Item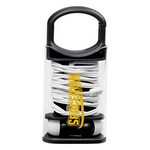 Earbuds Combo Set
Protective Plastic Travel Case. Cord Organizer. Phone Stand. Screen Cleaner. Works With Most Audio Devices. 49" Cord. 3 5/8" W x 1 5/8" H
$1.99 - $3.48
What Our Customers Are Saying
LogoAll met all of our need for our annual conference. There was a large selections of products and the price was right. Their customer services was spot on and we are likely to continue using LogoAll...
Jessye J., phoenix AZ.
Arizona Coalition Against Domestic Violence
Jan 19, 2011